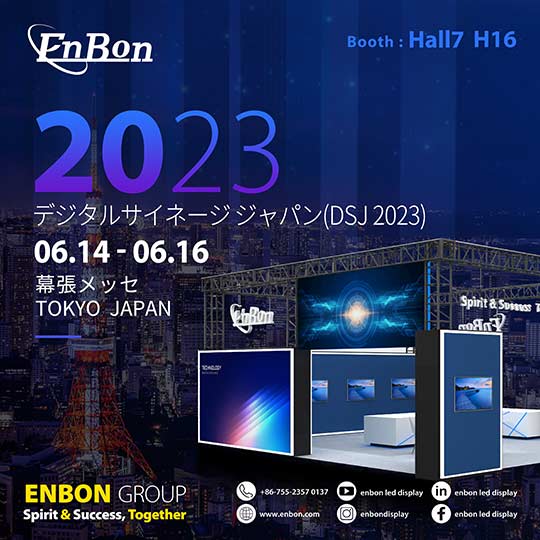 【Enbon booth】 At the Enbon booth, we will be exhibiting our hot LED displays - R5, R5 Plus, G and more.
【Date】 Wednesday, June 14 to Friday, June 16, 2023
【Time】10:00-18:00 (last day ends at 17:00 only)
【VENUE】Makuhari Messe (International Exhibition Hall 4-6/International Conference Hall 1F, 2F)
【Address】2-1 Nakase, Mihama-ku, Chiba City
【Booth】Booth H16 in Hall 7
The official website of "DSJ2023" is available here: https://www.dsignage-expo.jp/ ⭐If you would like to exhibit, please click on the following link to login and register: https://forest.f2ff.jp/login?project_id=20230601&_gl=1*11dqfn5*_gcl_au*MzIyOTk5NTgzLjE2ODE0NDc3NTQ.&_ga=2.14134263.1508525347.1685004052-571993922.1685004052
R5
The R5 is the top-selling Enbon rental product, designed using Enbon's latest concept, with an ergonomic shape and a comfortable grip on the handle. The lightweight of the product, with its double quick lock and standard curved lock, makes it easy to install and maintain, making your experience even better.
R5 Plus
The R5 Plus is an upgrade to the R5, Enbon has introduced a 500*1000 size version for high-end customers. Compared to the R5, the design of the handle has been optimised to make it more convenient and comfortable to operate. Apart from the change in size and handle design, all other aspects of the R5's traditional strengths are perfectly inherited.
G
The G model's greatest strength is its superb screen effect, which is extremely transparent and has a unique visual effect, especially outdoors at night. The G G model also features a steel-free design, with a very lightweight cabinet and box, which is very quick for installation and suitable for users who are looking for high efficiency.
Enbon's staff are very familiar with these products and are resident at the stand during the show. If you encounter any problems or are interested in the products, please do not hesitate to contact us.
We are very much looking forward to meeting you at the show.