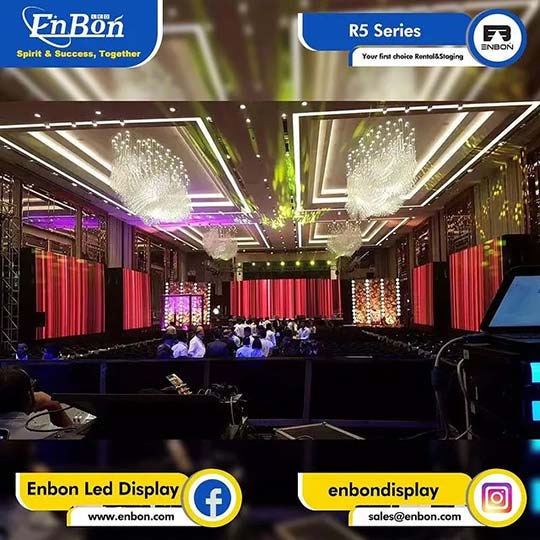 With the commercial shows and rental events become more and more popular, our LED display screen has be used for outdoor commonly, but there are some problems that we need to solve them for ourdoor enviroment, like temperature and humidty. On this article, we're going to discuss these problem, like why outdoor led display should have good temperature control and how to help our display screen dissipate heat.

Under different temperature conditions, the luminance attenuation and decline of red, green and blue lights are different. At 25 degrees Celsius, the white balance is normal, but at 60 degrees Celsius, the luminance of the three colors decreases, and their attenuation values are not consistent, so the brightness of the whole screen decreases and the color deviation phenomenon will occur. At the same time, when the operating temperature of the LED display exceeds the bearing temperature of the chip, the luminous efficiency of the LED display will decrease rapidly, resulting in obvious light failure and damage. The tube packaging material will change to rubber and the thermal expansion coefficient rises sharply, which leads to LED tube open and failure, so the LED display should do a good job of heat dissipation, the screen body temperature control in 60℃ below.

If the LED display is installed near the wall, you can choose the exhaust fan according to the size of the area. The exhaust fan installation position is arranged on the top of the side of the screen. When installing the exhaust fan, make sure there is a net inside to prevent personal injury caused by wind adsorption. At the same time, aluminum alloy blinds are installed on the exhaust fan outlet on the outside aluminum plastic plate to play a waterproof role. If air conditioning is installed, it is necessary to ensure enough space for the air conditioning host without affecting the overall appearance of the wall. 1.5P, 2P and 3P air conditioners are generally used. Northern cities use 20 square 1P air conditioning calculation; Southern cities use 15 square 1P air conditioning calculation. If the area of the LED outdoor display screen is relatively large, the air conditioning needs to be customized.