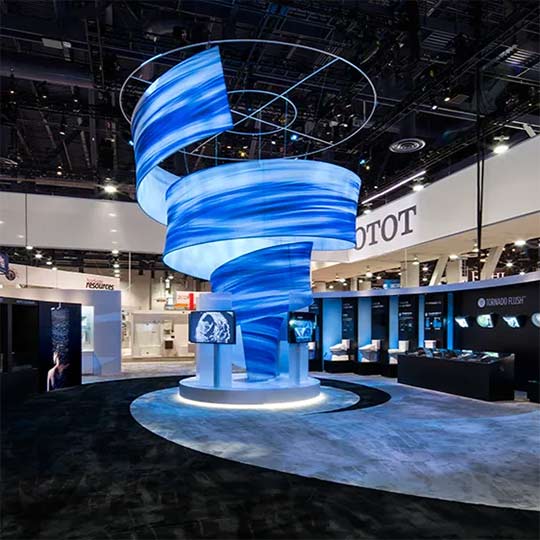 When we go shopping, we often see a lot of beautiful and shaped display decoration. Do you often see a lot of cylindrical display screens when you go to the business center? Also when you go to entertainment venues, you often see a lot of spherical, fan-shaped or other curved display screens. In fact, a large proportion of these screens are applications for flexible LED displays. Flexible LED display is mainly composed of a special flexible material made of circuit board and LED patch, its flexible range is large, it often used to make a variety of shapes of LED display. The applications of flexible LED display are mainly in the following areas: 1) Large malls and shopping centers.

As mentioned at the beginning, when we wander around the mall, we will see many LED screens of different shapes or some LED column screens, LED spherical screens, etc. These are mainly made of flexible LED screens.

2) Entertainmental places Many entertainment places are equipped with round, oval LED display for decoration, display content can be played according to different themes, rendering atmosphere. Some entertainment venues also made flexible LED display LED bar screen, wavy LED screen, fan LED display, water LED floor tile screen and so on, these are mainly used for decoration. 3) LED display screen shall be applied in the exhibition hall. In order to decorate their exhibition halls and make them look more beautiful and attractive, many companies often install LED screens with special shapes, and then play a variety of different video content. This kind of LED screens with more creative shapes are usually made of flexible LED screens.