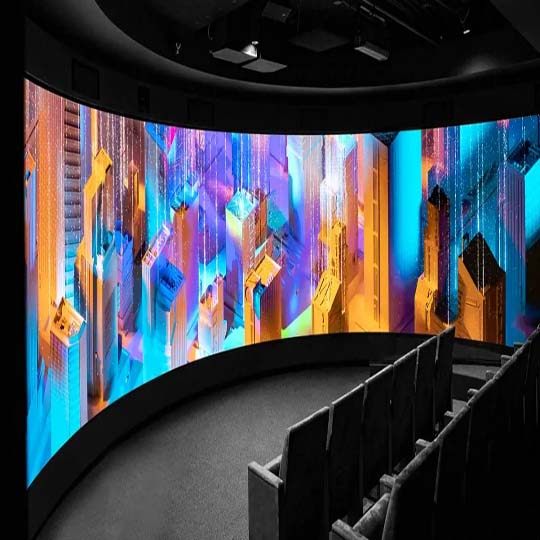 When purchasing LED screens, you should first determine your installation environment. Those installed indoors include many categories such as ordinary full-color LED displays and special-shaped displays, which are characteristics that need to be considered in terms of brightness, viewing distance and screen area.

1. Brightness Considering that the installation area of the indoor LED display is limited, the brightness is much lower than that of the outdoor. In order to take care of the adaptation process of the viewer's human eyes, the brightness should also be able to be adjusted adaptively, which not only saves energy and protects the environment, but also can be adjusted humanely according to the needs of the viewer.

2. Viewing distance The dot spacing of indoor LED displays is generally less than 5mm, and the viewing distances relatively close, especially the viewing distance of small spacing LED screens can be as close as 1-2 meters. When the viewing distance is closer, the display effect requirements of the screen will also be improved. The presentation of details and color reproducibility should also be very outstanding, which will not give people an obvious sense of grain. These are the advantages of the large LED screen.

3. Installation environment The working environment temperature range of LED display is - 20 ℃ ≤ t ≤ 50 ℃, and the working environment humidity range is 10% to 90% RH; Avoid using in bad environment, such as high temperature, high humidity, high acid / alkali / salt and other bad environments; Keep away from inflammables, gases and dust, and pay attention to the safety of use; Ensure safe transportation and prevent damage caused by collision during transportation; Avoid high-temperature use, do not turn on the screen for a long time, and turn it off properly for rest; When the LED display with humidity exceeding the specified humidity is powered on, it will lead to corrosion of parts, even short circuit and permanent damage.

4. Screen area The size of the screen is also related to the purchase of our LED display. In general, if the indoor LED display does not exceed 20 square meters, we generally recommend using a bracket. If it exceeds, we recommend using a simple box. Also, if the screen area is large, we can usually make up for the defect of our nearest viewing distance through the screen area, but it is better not to make up for it in this way.