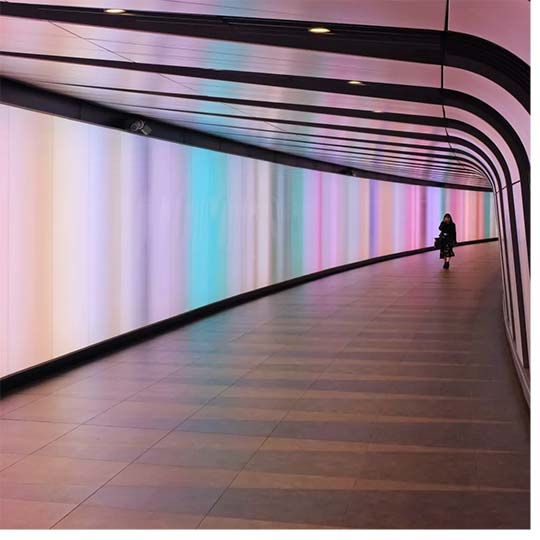 Stadium LED screen becomes more and more popular for the stadium advertising and broadcast information, but how to choose a suitable full-color LED display? We are going to discuss it on this article today. 1. Requirements allow for detailed application scenarios. For example, in addition to the fine pixel pitch LED screen, indoor stadium in basketball halls and other common adjustable bucket screen, several small bucket screen can be moved vertically shrink into a large bucket screen, can adapt to the basketball hall and other events broadcast in all kinds of occasions.

2. Overall Luminance, Contrast And Energy Efficiency Outdoor sports LED display brightness request than indoor to be a little higher, but not the brightness value more appropriate. For the stadium LED screen, brightness, illumination, energy-saving effect needs to consider, choose a high energy-efficient design of LED display products, in the security and stability and service life are guaranteed.

3. Selection of Installation Mode The position of the device determines the device mode of the stadium LED display. When installing a stadium LED screen, the stadium must consider whether the stadium LED screen needs to fall to the ground, hang the wall or embed the wall, and whether it can support the front and rear maintenance, the difficulty level of the maintenance of the device.

4. Viewing Intervals for Stadium LED Screen As a large outdoor stadium, often need to take into account the distance of the user, the general choice of a larger point distance display, P6 and P8 LED displays are the common type for outdoor stadium LED screen. But the indoor audience's viewing density is higher, the viewing interval is closer, the point spacing chooses P4 LED screen or P5 LED screen to be suitable.

5. Viewing Angle's Wideness For Stadium viewers, the wide angle LED screen ensures a good viewing experience for each viewer, as the viewing angle becomes more and more scattered due to the location of the seats and the same stadium LED screen.

6. High Refresh Rates for Stadium LED Screen Selection of high refresh rate of the display can ensure the smooth connectivity of large-scale Sports Broadcast Screen, the human eye view more warm and natural.

In general, stadium wants to select a good LED display, these issues require attention. At the same time, the focus should be on whether the manufacturer has prepared a proper set of processing plans for the stadium.