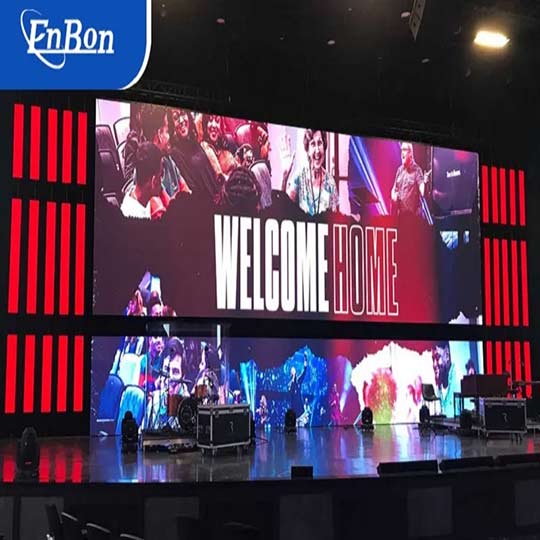 LED screens are used for advertising, promotion, and publicizing diverse information. Whenever there is a leisure activity or sports event, this screen can display everything that your business needs. There are many uses of LED screens and you can get the best of everything. It is an efficient choice for many businesses and if you invest in this screen, it will be the right move. Enbon offers a wide range of LED screens and you can choose the best one according to your needs.

Uses of LED Screens
If you are curious to know about the uses and applications of LED screens here is what you need to know:
1. Provide Information to the Public
Nowadays we are living in an increasingly connected world. It has become easy to receive useful information at every step. This is why businesses feel the need to give relevant information to the users. There are plenty of uses of organic LED screens, but one of the most important is providing information to the public. You need to provide information that stands out and is visible to all of them. Business owners and offices must know where they can place the LED screens easily and effectively.

Offices
In the offices, managers have to inform about all the latest news and updates to the workers. Sometimes it is necessary to boost up their morale and for this reason LED screens can be used. Companies need to use colorful means of communication instead of boring emails. When you have an LED panel it is the best way to share news within your company.

Government institutions
Government institutions need to provide relevant information to the population. They can use an LED screen to propagate their agenda and campaigns.

Transportation
Many trains and bus stations stop and start at street level while the airports also need a safe method of communication. We cannot deny the importance and use of LED monitor as it communicates with travelers about arrival and departure details. It also helps in informing about delays and promoting various shops that are at the station.

Shops
Whenever you want your business to excel using an LED sign will be the perfect move. It is the best way to advertise your company and inform new customers about the special offers, discounts, and highlighting products. LED displays and signs for pharmacies give clear information about health tips.

Streets The streets and towns have to display information for the safety of people. Whether it is the latest news of the municipality or anything such thing, LED signs will play an important role. 2. Broadcasting Live Events
Hundreds and thousands of people gather at the mass events. Whether it is a concert, a match or anything another important thing they all come to witness it daily. It is necessary to ensure visibility for all the people who are taking part in such events. No matter how far the audiences are from the stage, they will get a view from LED screens. The uses of organic LED screens are endless and they are an integral part of every promotion. You can use LED screens that are ideal for the following:

Sports stadiums Audiences love to watch football, tennis, basketball, and rugby matches. It doesn't matter which sports events you cover but people must get a clear view of the field. High quality LED screen will give a clear view of the performance from every corner of the field. Additionally, these screens are used as a marker and for video advertisements to get high profits. If someone asks you to list two uses of organic LED screens, it will be hard to answer.

Concerts Whether it is a concert or a festival everyone must become a part of it. They can watch everything live that is happening on the stage all the time. Even if they are two meters away their visibility must remain clear. With the help of a high-resolution LED screen, no one will miss these details.

Presentations & other events The LED screen setup is very much important for the presentation, talk shows, and other such events. Whether it is a company event, convention, or fair it will be easy for everyone to watch everything. Even if the auditorium is large it will not affect the visibility of the audience. Event organizers can make sure that the beloved audiences don't miss out on the gestures of the speakers. They can easily take an advantage of the screen and check out the presentation and videos.

3. Advertising Tool for Brands and Products Every business or brand must have proper LED screen details so they can use them effectively. You will not be surprised to know that LED displays that are used for advertising happen to be the most profitable. Digital LED billboards are useful for promoting brands and their newly launched products.

Mostly they are installed on the busiest streets in the city. Additionally, they are placed on the roof of a building or known squares of the city. It offers an excellent opportunity to gain more profits for the brand owners. Advertising in this medium is a good marketing strategy and will help you promote products. It enhances the loyalty of the customers and will strengthen your position in the competition.

4. For Decorations of Interiors and Exteriors Architects and designers can find an innovative options for architecture and interior design. With the help of LED screens, they can advertise their business and boost visibility at the same time. The content on the screen will help you grab the necessary attention of the customers. Your products will stand out among all and your sales will see an instant rise. Conclusion LED screens have become a popular choice among many brands and businesses. The applications and uses of LED screens are endless. If you want to promote your business or share information with the public using them will be a good choice. You can check out the wide collection of this product offered by Enbon and choose the one that fits your requirement.