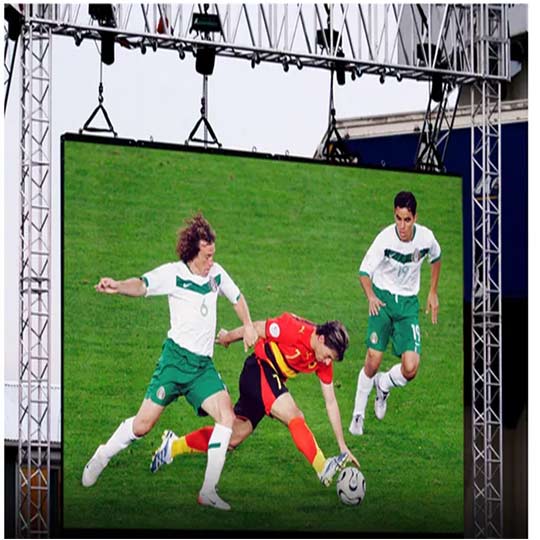 Spherical LED display is one the innovative creativity in the advertising industry. LED displays are one of the best ways to excite people. Technology has progressed daily and has developed many unique ways to promote your brand and ideas. Spherical LED displays have become popular nowadays because of their many features.

Now business owners use this technology for advertisement. Many indoor and outdoor LED screen facilities are available in the market. Different sizes and shapes of LED screens advertise your brand very well. One of the shapes is spherical. In this guide, we have discussed this unique technology. Let's start to discuss the details about it.

10 Applications of Spherical LED Display
Do you want to bring color to your advertisement? If yes, then a spherical LED is the best choice for this. Below we have listed different applications of spherical LED displays.

1. Exhibition Halls
Many exhibition halls use this unique technology to showcase the best to their visitors by combining light with sound. Spherical LED display technology creates a lasting impression and quickly attracts the audience's attention.

2. Star Hotels
Many hotel owners use this technology to showcase their offers and deals. It is also one of the easiest ways to promote their business or introduce any new dish to their customers.

3. In Several Science Projects
One of the best ways to attract the attention of tourists is to install an LED spherical display at the entrance of the science exhibition. In this way, you can easily showcase multiple physical phenomena. One can also show the celestial bodies in a way too attractive manner.

4. Gymnastics
Do you want to make your gymnasium attractive? If yes, then a spherical LED display assists you for this purpose. You can easily showcase the aesthetic lifestyle on spherical LED displays that grab people's attention and provide informational content for them.

5. Waiting Halls
Many people consider the waiting halls to be the most boring place. So, you can add spherical LEDs here that showcase capturing visuals. It also makes the waiting experience better and bearable.

6. Children's Places
Spherical displays are one of the best tools for captivating children's attention. It is also the best way of enjoyment and entertainment.

7. Railway Station And Ports
Are you looking for a place to advertise your brand? If yes, railway stations and ports are great places for this purpose. Replacing a flat screen with a spherical display can make your brand stand out. It can also capture more attention of the people.

8. Planetariums
It is an excellent place for astronomical displays. So, you can show the mystery of stars through a spherical LED display. It is a real-life experience and informational content for the visitors.

9. In Museums
Nowadays, spherical LED displays are used in museums to create innovative digital displays. The unique spherical display attracts the attention of visitors. It is also one of the best ways to communicate and interact with visitors. One can quickly tell their story through this technology.

10. Shopping Malls
It is also a great place to promote a brand. So, replacing the flat screen with a spherical touch screen makes your brand representation different from others.
Besides all of this, there are also many other applications of spherical LED display, such as:
● Decorated lightning.
● Technological project.
● Video advertisement.
● Corporate showrooms and lots more.
What Are the Advantages of Spherical LED Display?

We all are familiar with the development of technology and cost decreases. The same is true for spherical LED displays. Below we have mentioned some highlighted advantages of this new and unique technology.
● These display lights are highly scalable. You can play many videos at a single time. If you buy a six-face spherical screen, you can easily okay one video on one face. Similarly, you can advertise different things on the different balls of the screen. So, this technology can quickly convert a massive display into a small one.
● It is softer and very perfect.
● Different shares are available in the market, such as hexagon, triangle, watermelon, etc. It is best to choose a watermelon-type shape because you may feel viewing angle issues in other types.
● Its design is more flexible and basic.
● It offers 360 full-angle view. When you switch on the screen, heat treatment and weight divide on the full screen.
● It comes with many positions such as an LED mask, water drop, and flower screen.
● It provides a good image with high quality.
● Its colorful content makes it attractive and unique.
● It is an excellent way to promote the brand and wins the business race.
● Spherical LED display make the advertisement campaign unique and innovative.


So, you can showcase your products with this technology. The LED spherical display covers everything from artistic to aesthetic points of view. Its actual life application makes it a promising technology for many people.

After reading all of this, are you looking for a brand that manufactures high quality with a unique color contrast spherical LED display? If yes, then Enbon meets your needs very well. Your satisfaction is our priority. We guarantee the quality of our lighting products. You can visit our site to know more about us.
Factors to Consider During the Selection of LED Sphere
It is crucial to invest in the right product. Keep the following points in mind during the selection of spherical LED displays. First, make yourself clear with the answer to the questions listed below.

● What diameter do you require?
● Pixel pitch that you need.
● For which purpose do you want to purchase.

Buying the unit that has the following factors.
● Easy to set up: First, ensure you buy a product that is easy to set up. Check the installation easiness.
● Warranty: The spherical screen must have a considerable warranty. You will get this type of information from the service if the company.
● Image quality: It is just an important factor to consider. You can not ignore the image and pixel quality. Make sure that the display screen offers high pixel and readability. Also, don't compromise on the brightness of the screen. In a nutshell, a spherical LED display is rich with many unique features. You can quickly express your message and creative ideas through it.