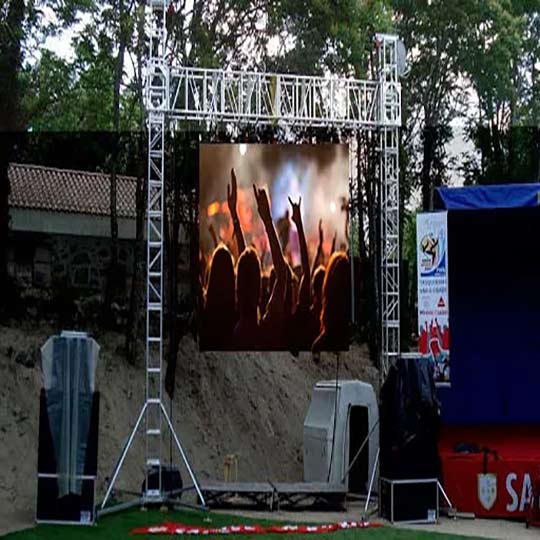 Businesses from all over the world use digital technology for advertisement and to promote their brand. Custom shaped LED screen design after the aesthetic appeal of customers when their need is not fulfilled with any other LED display solution. No matter for which purpose you utilize the LED display, precaution is always required.

You can easily maintain and enhance the life cycle of a custom-shaped LED screen with proper knowledge of maintenance. Before discussing the caution, one should know about the custom-shaped LED screen.

This informational guide assists you in increasing the lifetime of this modern digital technology. In this blog post, we will discuss all the custom shaped LED screens along with their precautions. Let's delve into the details of the topic. What Is a Custom Shaped LED Display?

Custom shape LEDs are LED products designed according to customer's tastes and preferences. It is only available when all other digital technology does not fulfill the requirement of customers. It is manufactured with a wide variety of shapes, sizes, and resolutions according to client taste. Its shape is perfectly suitable for the customer's business location.

Different shapes are tailored, such as:
● Circular
● Rectangular
● Spiral etc
Custom Shaped LED Screen Precautions

One should follow the below-listed precautions to increase the lifespan of a custom-shaped LED screen.
1. Turn on/Off the Screen With Proper Sequence

If you want your screen to run normally, then switch on the control computer first.
● First of all, start the distribution box of the light emitting diode display.
● After this, switch on the control computer.
● Now turn on the video processor.
● At last, switch on the sending box.

The custom shaped LED screen also needs rest for long-term and proper operation. So, follow the following sequence to turn off the whole setup. Improper way of switching off the system burning the lamps and causing severe damage.
● Switching off the video processor.
● Close sending box.
● Turn off the controlling PC.
● At last, switch off the distribution box of the light emitting diode display.
● Don't switch on the screen in the state of a full white screen.
2. Precautions Regarding Electricity
● The power terminal's positive and negative poles are restricted to be reversed. If you connect in reverse, then the screen burn out, or serious fire occurs.
● Power supply voltage and frequency of LED display are in the range of 220V and 50 Hz, respectively.
● Ground contact should be safe and reliable.
● Make sure that you keep the power supply away from high-power equipment.
● If you observe short-circuit, tripping, etc., then don't switch on the system and check the problem as soon as possible.
● It is crucial to keep the power supply stable.
● To avoid lightning strikes, grounding protection is also necessary.
● It is vital to power the screen step-by-step.
● Don't play the LED screen in a full white mode for more than half an hour.
● Always play dynamic videos to avoid excessive current or lamp damage problems.
● Internal wiring always be checked by professionals.
3. Cleaning Instructions

After the use of a custom shaped LED screen, it is important to clean it properly. From time to time, cleaning saves you from many future problems. Use the soft brush to clean the surface of the module. Don't use a wet cloth or any type of liquid. It may damage the lamp beads instantly. Well, you can wipe the screen with alcohol. But don't directly apply it.

4. Precautions Regarding Storage Environment
The storage temperature also matters a lot. Along with the temperature, one should also know about the humidity requirements. So, don't store the large screen in a humid environment because this atmosphere becomes the reason for oxidation which leads to corrosion of the circuit board. It is crucial the environment should be free of dirt particles.

5. Moisture-Proof Requirements
Don't switch on the LED display for a more extended period. Pre-hot spot light method is necessary to follow during the turning on the screen.

If you observe any display system problem, contact professional technicians. Don't disassemble the system without the permission of professionals!

Type of LEDs Used in Custom Shaped LED Screen

For the manufacturing of custom LED display, different types of light emitting diode is used, such as:
● DIP (Dual-In-line) packaging LED
● COB (Chip on board) LED
● Surface mounted services LED

Factors to Keep in Mind When Purchasing Custom Shaped LED Screen
Here are some factors that should be considered when buying a custom LED display.

● Location of installation: You must consider the installation location before buying an LED display. It gives the environmental idea of where the screen is placed.

● Content to be displayed: What type of content are you going to display on the screen? It will give information about the production process of custom LED.

● Viewing distance: Before purchasing an LED display, estimate the viewing distance.

● Parts can be easily replaced: Make sure that you purchase the product whose components are easily replaceable.

Enboncustom shaped LED screens come in various sizes and shapes. Our products are guaranteed to meet your needs and desires. We always do our best to fulfill the requirements of clients. Moreover, Enbon custom LED displays are easy to install and maintain.

We have expert technicians that resolve all your digital technology problems. You can contact us to learn more about our brand. Which Condition a Good Custom LED Display Satisfy

It must satisfy the following conditions: ● The color temperature should be constant to permit high-quality visuals every time. ● For every covered one-meter distance, the pixel pitch should be one millimeter. ● Having a good viewing angle. The Bottom Line

Hopefully, this informative guide will prove helpful for you. Keep in mind all of these precautions to enhance the life cycle of custom shaped LED screens. If you want to invest in a good product, then consider Enbon custom-shaped LEDs. We have different colors and sizes. You can choose according to your choice. Contact a professional if you observe any abnormality in the function of the custom LED display.