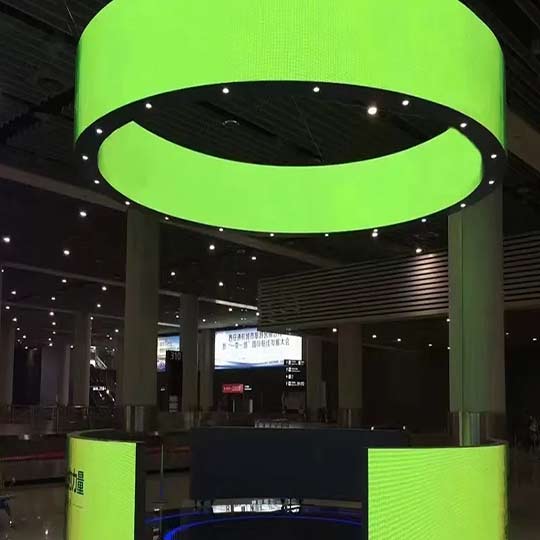 There are four components of the interactive multimedia system, we can list them as motion capture, data transceiver, data processor and LED screen.

1) Motion capture: this can realize the capture and collection of participants' actions.

2) Data Transceiver: the data transceiver can transmit the data of different motions very quickly in back and forth.

3) Data processor: the core part of realizing the real-time interaction between participants and various display effects. It can analyze and process the collected images and data, then merging them and processing them with the existed data in the processor.
Through the brief introduction of the interactive multimedia system, we can have an overall impression of the working methods. In conclusion, the LED floor displays will capture the movement of the users firstly, then transmitting and analyzing the collected data through data transceiver and processor, and finally achieving the tight combination of data and the real-time movements to create the highly interactive effect.

If you read the above content, you may already have some ideas about the differences of technological points between LED floor screens and traditional ones
1. First, the direction of data transmission. The data of traditional LED displays is mainly transmitted from the control end to the display, which is a unidirectional transmission, whereas that of interactive LED floor screen is bi-directional to achieve the communication of the systems and the real-time motions of users.
2. Second, the control system. In terms of playback, the ordinary LED display board can only play the video sources and don't need to accept other video signals, however, an interactive LED floor screen can not only play but also accept real-time information returned from the display. After the information receiving, the control software will call different display effects for different coordinate points on the LED display modules. You can believe it is a more intelligent systems compared with the traditional digital LED displays.
3. Third, the functions. This is the core and the most obvious difference as the LED floor displays can sense, collect and transmit the data produced by users so brings high entertainment. We have described it with great length in the previous content, so we won't go into details there.