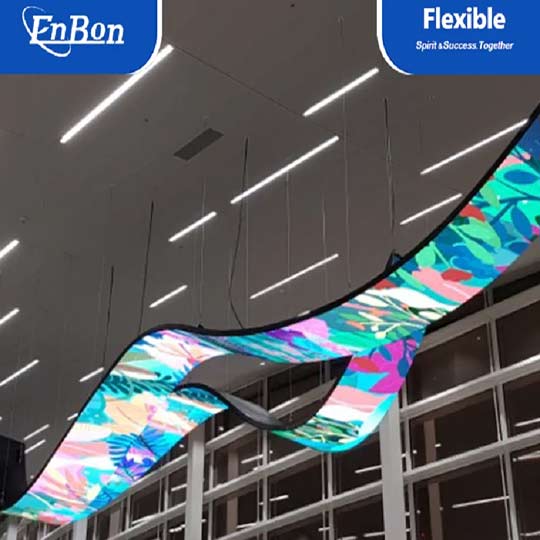 The flexible LED curtain screen is a new generation of indoor and outdoor display products, which has the characteristics of lightweight, high brightness, high waterproof, high wind resistance, and high shock resistance.

The product uses a high-quality aluminum alloy specially designed for the rental display market. It has strong wear resistance and high research, development, and production. The cost of the product is low, suitable for long-term fixed installation and temporary rental; it is easy to install and disassemble, and it is convenient to carry and transport. This digital display is the best choice for indoor and outdoor concerts, large conferences, fashion shows, hotel halls, etc.

Do you want more about flexible LED curtain screens? If yes, then keep reading this informative guide.

Why Do You Need a Flexible LED Curtain Screen?
Flexible LED curtain screens are essential for any band, nightclub, theater, or venue that holds performances. The ability to see the stage from different angles and the other colors offered by the various screens can help make a performance more exciting and visually appealing. This type of display is a better choice to choose as compared to a typical display.

Many business owners invest in it because of its unique design and outlook. Besides this, flexible LED curtain screens have many other benefits. We will discuss the details of all benefits later in the coming section.

What Is the Technology of Flexible LED Curtain Screen?
The technology of flexible LED curtain screens is a new type of display product composed of an adjustable base substrate and a surface cover layer.

The LED curtain comprises LED lights, controllers, and power supplies. LED lights are made of various types of high-power LED chips.

It is connected to the controller through the signal line to form a particular shape. The computer controls the controller to display various images or videos on the LED curtain.

The Resolution of Flexible LED Curtain Screen
In the market, you will find a wide variety of resolution LED screens. This type of display has become popular day by day due to its unique features, such as high brightness and good-quality pictures.

The resolution of a flexible LED curtain display directly depends upon the pixel pitch. How many pixels on the screen define the resolution of the display? So, the rule is straightforward. Higher pixel numbers mean good picture quality due to high resolution. Furthermore, two main factors affect the sign's performance: pixel pitch and viewing distance.

So, the effect of a LED curtain display is the ultimate goal, and its success depends on many factors. The most crucial factor is the resolution of the display.

What Are the Advantages of Flexible LED Curtain Screens?
It is the most common question that people ask why an LED curtain screen is considered better than a normal display. This section gives the answer to this question by explaining the benefits of this digital product. Some of the advantages are mentioned below:

1. Transparent appearance
The use of a flexible LED curtain display mainly achieves a transparent appearance. The narrow pixel pitch and the use of special materials will enable the flexible LED curtain display to achieve a high transparency of up to 80%.
While ordinary displays cannot reach such high transparency, this will provide a good viewing effect for the audience at the back of the display.

2. Extra slim and lightweight design
Nowadays, the flexible LED curtain display is very popular in the market because of its extra slim and lightweight design.
Flexible LED curtain displays are much thinner and lighter than traditional LCD screens. They are rolled up into a scroll, which is convenient for carrying and storing. The flexible LED curtain screen is widely used in various situations.

3. Soft and flexible skin
The flexible LED curtain display is made of high-quality flexible PVC material. It is soft and can be curled, with a thickness of less than 1cm. That's why it is suitable for indoor and outdoor use.

4. Perfect lightning
With flexible LED curtain displays are set to any color, brightness, and hue to ensure the entire room is evenly lit. You can even make the curtains blink to make a room more fun or festive.
Flexible LED curtain screen is a new type of product that combines video's dynamic effect with stage lighting's characteristics; this product is suitable for various indoor and outdoor occasions, such as stage performances, product launches, exhibitions, and so on.

5. Cost efficient and energy saving
The flexible LED curtain display uses less energy than traditional lighting. Also, it is cost-efficient since it is possible to use the same amount of light twice or three times, as in the case of traditional incandescent bulbs. Furthermore, LED curtain displays can create special effects and lighting in any location.

6. Easy to install and maintain
This display has a flexible structure that is easy to install and disassemble. The frame is of aluminum alloy, and the surface is covered with a black protective layer.

7. Longer lifespan
With a simple structure and good heat dissipation, the flexible LED curtain screen has a longer lifespan than the traditional one.

The lifespan of a flexible LED curtain display is more than 100,000 hours. In comparison, traditional display screens have a lifespan of only 30,000 hours, meaning the flexible LED curtain display can last for several years and even decades. Final Words

A flexible LED curtain screen is characterized by being flexible, lightweight, and free to fold. It overcomes the defects of past LED displays, which are easily deformed, heavy, difficult to install and transport, and high in price.

The product has high-quality materials which can resist severe weather conditions, such as high temperature, low temperature, and UV radiation. The product has an innovative cooling system, which can effectively dissipate heat and extend the product's lifespan.

Enbon flexible LED curtain screen is the latest innovation of LED display. It is a flexible LED display made of LED strips, PVC belt, and aluminum alloy. You can visit our site to get more information about our display products.