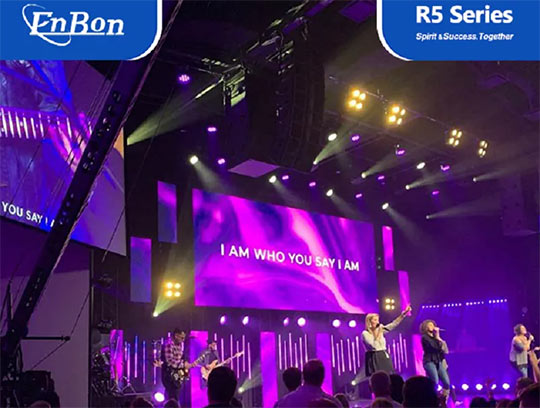 If you're in the market for LED stage screen displays, you should know there's no one-size-fits-all solution. Choosing the right display requires careful consideration of your needs and a lot of research. In this blog post, we'll explore what to look for when selecting an LED wall or large video display so that you can make sure it meets your performance and functional requirements. Here, we'll discuss various factors to consider, such as viewing angles, resolution quality, power consumption levels, and more, so that you can select the best display option for your venue or event.

What Are LED Stage Screen Displays?
LED stage screen displays, also referred to as LED video walls, LED video screens, or LED video displays, are one of the most visible and adaptive technologies for captivating an audience. LED (Light Emitting Diode) is a semiconductor LED that converts electrical energy into light energy when electricity is applied through a non-connected LED module/panel. LED stage screen displays offer superior brightness, contrast levels, high resolution (up to 8K), and a wide color gamut. With its immersive visual experience and versatile applications, LED stage screen displays quickly become the go-to choice for events such as concerts, conferences, trade shows, and more. The technology can be used indoors and outdoors, allowing event-goers to enjoy stunning visuals at any time of day or night.

How to Choose a LED Stage Screen Display?
1. Decide budget and space requirements
Regarding LED stage screen display, there are several factors to consider when setting a budget and a space requirement. First, you must determine how much visual area you wish to cover on the stage, taking into account distance from the screen, seating layout, viewing angles, and the size of the venue. The size of the LED display is key for determining your overall budget: do you want an installation with multiple panels connected or one large single LED panel? Additionally, think about the type of LED display you wish to use, as this will greatly affect both your budget and space requirements - depending upon your needs, you may be looking for an indoor or outdoor LED display. Doing thorough research before investing will ensure you get exactly what and where you need it.

2. Research all available products
LED stage screen displays are changing the way experiences are presented to audiences. Recent technological advancements mean Produce and Lighting Managers can access industry-leading displays with high-resolution visuals, wide viewing angle capabilities, and vivid colors. The right LED stage screen display can make all the difference in any performance environment, and finding the right display requires research into the latest features, capabilities, and brand options. Be sure to consider the brightness of your LED screen display, as this is one feature that directly affects its visibility for audience members. Ultimately, weighing available options will ensure you get a long-lasting LED display suited for your specific event needs.

3. Compare specifications
LED stage screen display technology is popular for many due to its impressive capabilities. LED stage screens have evolved, offering higher resolutions and brightness with ever-increasing levels of contrast to create stunning visuals. When comparing LED stage screen displays, it's important to look at the panel specs such as pixel pitch, LED count, and brightness. Many LED displays offer various levels of detail resolution, from coarse dot pitch LED screens to high-definition LED walls that can achieve 4K resolutions. LED panel configuration is also important for LED stage screen displays; horizontal LED panels offer a deeper color range than raster LED configurations. Ultimately the choice between LED video walls comes down to the size requirements and application desired - but no matter which type of LED display is chosen, you are sure to be in awe of the vivid visuals they provide.

4. Investigate customer reviews
LED stage screen display technology is becoming increasingly popular for live events, but selecting the right LED display can be daunting without customer feedback. That's why it is important to investigate customer reviews when researching LED stage screen displays – reading customer feedback offers invaluable insight into product selection and performance in real-world settings. It's important to read reviews from both happy and unsatisfied customers – while only positive reviews are attractive, understanding issues that customers have faced can help ensure your LED stage screen display purchase best meets your expectations. Take the time to read through user testimonies and ensure you are informed before investing in LED display equipment.

5. Look into installation and servicing needs
LED stage screen display is becoming increasingly popular in live event venues due to their bright visuals, durability, and low power consumption. When selecting LED displays for installation, it is important to determine whether the provider offers supplementary installation or servicing services. Installing these devices requires specialized knowledge and awareness of associated safety risks; therefore, hiring experienced professionals is recommended. If a provider does not offer such services, arrangements for installation and service may need to be made with another company. After the setup is complete, ongoing servicing may be necessary to ensure that LED stage screen display continues to operate properly and safely over time – having a solid servicing plan from the start can save time and money in the long run.

6. Select a LED stage screen display provider
Choosing the right LED stage screen display can be a daunting task for any consumer due to the variety of available options. After conducting in-depth research and considering pricing and support services, I believe XYZ is the best choice. They offer LED screens with superior picture resolution, contrast, and wide viewing angles at competitive prices. They also provide unparalleled technical support, which ensures that customers have access to reliable after-sales service at all times. I believe XYZ offers the most value regarding LED stage screen displays.

7. Purchase the LED stage screen display
Researching LED stage screen displays before committing to a purchase can ensure that expectations are met for cost and performance. Though getting the best price possible is important, other factors, such as warranty lengths and shipping terms, should also be considered before deciding to buy. Only when all factors have been thoroughly investigated should a buyer proceed with the purchase – otherwise, they risk ending up with something that won't meet their needs.

Final Words
LED stage screen display technology has revolutionized the outdoor event industry recently, providing viewers with crystal clear visuals that can bring an event atmosphere to life. Making the right LED display purchase for your outdoor event can be overwhelming, especially if you are unfamiliar with LED technology. Fortunately, this blog post provides excellent guidance on factors to consider before purchasing a LED stage screen display. This invaluable guide helps you assess LED options according to your specific requirements, enabling you to make an informed and confident purchase decision. Make sure to read this guide thoroughly so that you are well-prepared to acquire the LED screen display that will help create an unbeatable experience for your outdoor party guests.

Enbon has established itself as a leader in the LED display industry, providing some of the best services the sector offers. Using cutting-edge technology, advanced manufacturing processes, and superior engineering, they ensure that any installation or service project is completed reliably and to the highest standards. Their experience working with small business owners and Fortune 500 companies has given them a wealth of knowledge in managing projects ranging from large commercial lighting systems to domestic energy-saving applications. With Enbon's commitment to excellence and customer satisfaction at the forefront of all they do, there is no better choice when finding providers for your LED stage screen display needs.