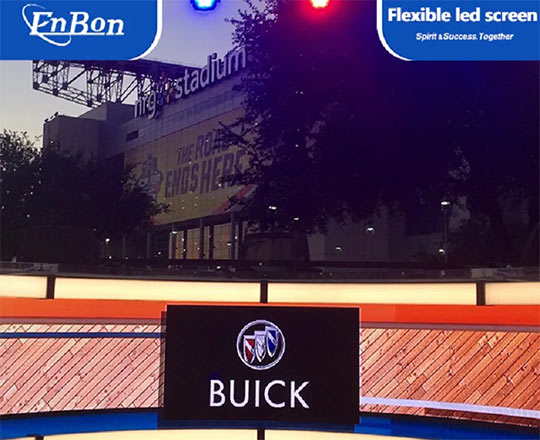 LED display screens are quickly emerging as the favored tool for enterprises to reach a large audience and leave their customers with a lasting impression. Whether you're looking to increase sales, generate publicity about your latest offers, or promote brand awareness, flexible LED screens provide businesses with the perfect opportunity to do so dynamically and creatively. These flexible displays can be framed in any range of shapes and sizes to fit better the environment they'll be used in, allowing them to instantly stand out while easily conveying information to large numbers of customers. Investing in flexible LED screens is one of the wisest decisions businesses can make if they wish to see growth in their success; it is sure to contribute towards their overall business objectives while simultaneously modernizing the look of their operations.

What Is a Flexible LED Screen?

Utilizing the power of creativity, flexible LED screens allow us to create and install stunning displays in any shape and size imaginable. Thanks to a unique combination of high-quality PCB, rubber materials, and insulating substrates, flexible LED panel screens are protected from damage due to their extreme malleability. Get imaginative with your next display project - curves, circles, you can even build contraptions that seemingly press against the boundaries of traditional screen structures! Not to worry, though; flexible LED screens will still give you incredible visuals, clear pictures, and amazing video content even when folded or bent into any desired curvature.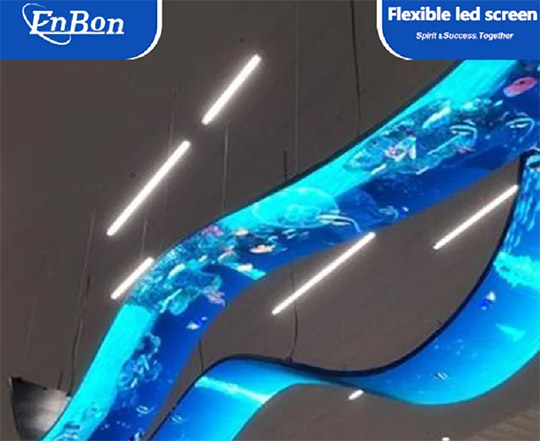 A flexible LED screen can be an indispensable asset to your business. It helps you to stand out from the competition and draw in potential customers with its beautiful, eye-catching display of colors, images, and videos. Furthermore, flexible LED screens are durable, energy efficient, and have low maintenance costs compared to traditional LED displays. With their flexible construction, flexible LED screens also provide a unique level of customization for your business needs - no matter which direction you go in with your advertising campaigns, flexible LED screens constructively impact customer outreach and visibility. And that means more customers for your business!

Top 7 Advantages of Flexible LED Screens
1. Creative display
Using flexible LED screens is one of the most inventive and creative ways to promote your business. With modular installation, you can design your flexible LED screen into any shape you desire, allowing you to create unique and captivating displays that stand out and draw attention. The flexible nature of these screens means that you can express your personality and the atmosphere associated with your business in a truly memorable way. Imagine the impression this will leave on potential customers as they walk through your doors or past your storefront, knowing that every element was designed with passion and creativity.

2. Customization
You can get creative and set your business apart with flexible LED screens. It allows you to tailor your purchase according to size, shape, and pixel pitch - allowing you to choose the bright and vivid display that matches your product best. You'll be able to mix it up with different styles and resolutions, resulting in designs that captivate minds while advertising your brand. Nowadays, flexible LED screens allow for full customization of layouts, unleash that creativity, and stand out in the crowd!

3. Suitable for 3D LED screens
This year, 3D LED screens have gained great attention as a new direction in display technology for their impressive ability to capture and engage the audience's viewers. To present a naked-eye 3D visual effect, flexible LED screens must bend at a certain curvature of 90 degrees, allowing them to create an immersive experience that traditional methods cannot replicate. With unparalleled visual impact, these flexible LED screens greatly drive business growth and boost brand influence. Flexible LED screens can indicate whether you use them to draw attention or give an edge to your marketing efforts.

4. Easy to install and replace
Installing flexible LED screens has never been easier! With magnetic connections to create a seamless display, these panels can be set up in any space with minimal effort. Furthermore, flexible LED panels are designed to resist extreme compression and twisting, tackling installation jobs requiring extra technicality. This means that no matter how difficult the job might appear, you can always trust flexible LED screens to get the job done! With storage, transportation, and quick replacement so easy, flexible LED screens make achieving the perfect video wall simpler than ever.

5. Lightweight
Flexible LED screens are revolutionizing the world of animation and entertainment, offering infinite possibilities regarding set design. These flexible, lightweight screens enable creators to make elaborate displays come to life with fewer materials and weight than ever. Thanks to their revolutionary design, these flexible LED screens eliminate the need for bulky steel supports, making them much thinner and lighter than conventional LED screens. What once had a clunky appearance can now be streamlined and flexible, giving designers unlimited potential to create spectacular settings. With flexible LED screens becoming more widely available, traditional design boundaries have been broken, inspiring a new wave of creativity in the industry.

6. Wide range of application scenarios
Flexible LED screens are transforming the way we view live events. Their lightweight and simple installation process mean they can quickly and easily be fixed in various settings. From stadiums, shopping centers, and hotels to outdoor stages and concerts, flexible LED screens create an immersive digital environment, allowing us to get closer than ever before to the action. With their bright colors and dynamic visuals, these flexible LED screens bring once-dull events to life, engaging audiences with novel experiences. So what are you waiting for? Live out loud with flexible LED screens!

7. High cost-effectiveness
Flexible LED displays are a great way for enterprises to get creative and save costs. LED flexible screen price enables business owners to invest in the best and most cost-effective display solutions, making it an easy and wise choice for any business. With its reduced steel frame structure, flexible LED screens allow businesses to maximize their investment while taking control of their growth opportunities. Whether it's used as a billboard or an interactive platform, flexible LED displays provide infinite possibilities at a low cost.

Final Words
Investing in a flexible LED screen for your business is a great way to maximize your return on investment. Flexible LED screens offer numerous advantages, from increased visibility and brand recognition to provide an immersive customer experience. The portability of these screens makes them easy to install in any space and the low maintenance cost makes them a cost-effective solution for businesses. Not only do these displays provide an engaging viewing experience, but they also help business owners reduce their overall energy consumption.

If you're looking for a comprehensive and reliable solution for flexible LED screens, you should consider Enbon. With over ten years of experience, they specialize in designing, installing, and maintaining best-in-class LED displays and always deliver great visuals. Their solutions are highly customized per the needs of each customer, ranging from large stadiums to select restaurants. So no matter the client's individual needs, Enbon stands ready to provide the best service possible. Plus, their creative staff can offer our clients advice regarding content planning and video graphics. Meaning that not only will you get one of the top LED screen solutions around, but their helpful guidance ensures your experience with them is stress-free. If you need an LED display solution quickly that is both cost-effective and built with quality in mind, then Enbon should be your first choice!