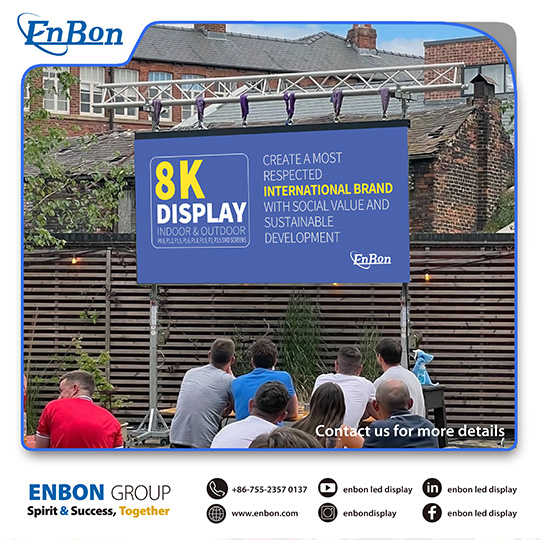 Creative LED displays are becoming increasingly popular among businesses and other organizations. These displays offer creative visuals and captivating experiences, allowing users to create unique visual effects that can be used in various settings. Creative LED displays come in many different types and sizes, each offering varying brightness levels, colour accuracy, resolution, refresh rate, and more, with the ability to easily customize their display for specific purposes or events.

Creative LED displays give businesses an effective way to communicate their message or brand identity in an eye-catching manner. Additionally, creative-led displays are often cheaper than traditional projection systems and are easier to install and maintain. In this article, we will discuss creative LED Displays and the advantages they bring over traditional projection systems for commercial applications.

What Are Creative Led Displays?

Creative LED displays are a type of display technology that uses individual light-emitting diodes (LEDs) to create an image. This type of display offers higher resolution and brightness than traditional projection systems and greater colour accuracy. The colours used in creatively led displays can be adjusted for special effects, and the display size can range from small to large enough for a complete creative environment.

The innovative LED displays come in many different sizes and shapes, including curved panels, cubes, irregular shapes, and more. Additionally, creative LED displays have adjustable brightness levels and can display detailed images over long distances without sacrificing visibility or clarity.

Advantages Of Creative-Led Display

Creative-led displays can be used for various purposes, from advertising campaigns to entertainment and everything in between. Creative LED displays offer several unique advantages, making them an increasingly popular choice for businesses, organizations, and individuals.

Visual Enjoyment

First and foremost, these types of displays provide an unparalleled level of visual enjoyment. LEDs emit bright light that can capture viewers' attention more effectively than any other display type. They also come in a wide variety of colours that can create stunning visual effects or messages. With the right design and software, you can create eye-catching visuals to draw people's attention. This makes them ideal for advertising campaigns or drawing people's attention to certain areas within a location.

Low Energy Consumption

Secondly, creative LED displays have low energy consumption compared to other display types like LCD or plasma screens. This makes them more cost-effective over time as they require less energy than many different display types on the market today.

Long Lifespan

Finally, creative LED displays' long lifespan is another great advantage compared with other types of display technologies. LEDs are made up of solid-state components, which give them a much longer life than many different display types on the market today. This means you won't need to worry about replacing your display frequently.

Different Applications For Creative Led Displays In Commercial Settings

LED displays provide an excellent way to elevate the general ambience of any commercial setting. Whether you are running a small business, have a big corporate office, or own a retail store, there are many creative applications for LED displays that will make your space look modern and stylish.

Flexible Led Displays

One such example is flexible LED displays; these systems offer unique 3D design capabilities, allowing you to create eye-catching visuals that grab people's attention. Flexible LED displays are perfect if you want to communicate key messages engagingly.

Transparent Led Display

Another creative application for LED screens is transparent LED display systems. These innovative displays allow light to pass through them; they're ideal for locations where visibility is important, like shop windows or even lobbies of hotels where customers want to get a glimpse of what lies inside without entering it.

Led Cubes

The cube's modular nature allows users to build large structures made up of multiple cubes – each one displaying unique content - making them incredibly versatile and impactful tools for showcasing products or services.

How To Choose The Right Creative-Led Display For Your Needs?

When selecting creative LED displays for your commercial space, there are a few things to consider.

Size And Type

Firstly, consider the size and type of display you need; this will depend on where it will be positioned, other elements, how far away people will likely be from it, and what kind of content you want to show.

Brightness

Secondly, you should ensure that the display is bright enough for the environment it's in – both day and night.

Tips And Tricks For Getting The Most Out Of Creative Led Displays.

Once you have selected the right creative LED display for your needs, there are some tips and tricks on how to get the most out of it.

Firstly, make sure that the content you're displaying is creative and captivating; people will be more likely to take notice if it stands out from other visuals.

Additionally, make sure to use creative transitions and effects to keep people's attention; many creative video effects are available to make your content look more visually appealing.

Finally, experiment with different settings, such as colour temperature and brightness, to see what works best for your display in terms of visibility. This way, you can ensure that its maximum potential is being utilized.

Conclusion

It's clear that Creative LED displays have come a long way in the last few years and is now becoming a popular choice for businesses looking to add some creative flair to their signage. They offer a durable and reliable display solution with plenty of flexibility to customize your image, logo, or text while keeping costs down. Ultimately, with all its advantages, a creative LED display can turn your message into an unforgettable experience – without breaking the bank.