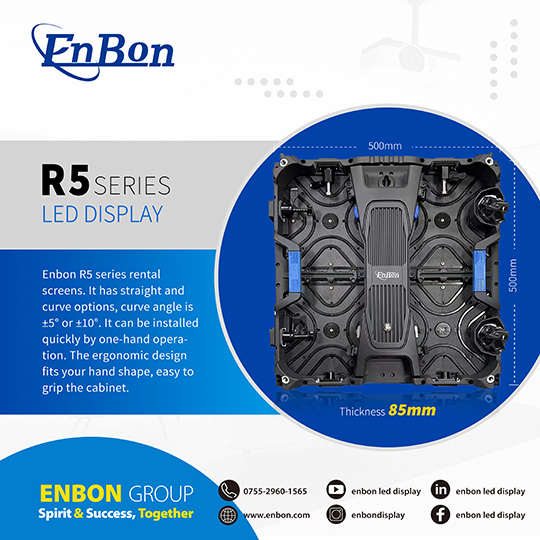 LED display video is a type of video display that uses light-emitting diodes (LEDs) to create an image. It is often used in electronic billboards and in more minor electronic signs and displays.

This type of video display has many advantages over traditional video displays, such as lower power consumption, higher contrast ratios, and wider viewing angles. It is also more durable and reliable than conventional displays, making it well-suited for use in outdoor or high-traffic environments.

As a rising star in the market of display products, LED display video has won many people's hearts. In this article, we will share with you some interesting facts about LED display videos.

Some Interesting Facts About LED Display Video

LED display video has been widely used in many fields, such as outdoor advertising, indoor display, stage shows, concert, sports events, and so on. It is becoming more and more famous among people. Here are some interesting facts about LED display videos.

● LED display video is an array of light-emitting diodes (LEDs) which can use to form images, videos, and displays.

● It is usually composed of two parts, the front end, and the back end. The front end includes a light-emitting diode, a power supply, and a control circuit. The back end consists of a printed circuit board and a heat sink.

● LED display video has the advantages of wide viewing angle, high brightness, energy saving, good color reduction, long life, easy installation and maintenance, and low cost.

● The brightness of the LED display video is adjustable. The brightness of the display adjusted according to the needs of the environment.

● LED display video has a high contrast ratio and is still very clear to the naked eye. This is a significant advantage over plasma displays, which can only be viewed in a well-lit room.

● It has a broader viewing angle than a plasma display. You can see the picture from anywhere in the room and still get a clear image.

● LED display videos are not as susceptible to screen burn-in as plasma displays. This means that you don't have to worry about your TV getting ruined if you accidentally leave it on for too long.

● Purpose: The LED display video is a short video used to advertise or promote a product or service. It is typically played on a loop on an LED display board.

● Content: LED display videos typically contain a mix of images and text. The images may be pictures of the product or service or unrelated images used to add visual interest. The text may be a slogan or tagline for the product, or it may be a brief description of the product or service.

● Production: LED displays are typically produced by businesses or advertising agencies. They may be produced in-house or by an outside production company.

Why Are LED Display Video Popular in the Industrial Market?

LED displays are becoming increasingly popular in the industrial market, rather than using traditional LCD displays. The main reason behind this is that LCD displays produce a lot of heat, which can damage the equipment to which they are mounted. With LEDs, there is no such problem.

Some benefits are:

1. Increase customers attraction

The use of LED display video walls in industrial settings can have a number of benefits that can help to increase customers' attraction and ultimately improve profitability.

One of the main benefits is that they can help to create a more engaging and visually appealing environment that can draw in customers and encourage them to spend more time in the store or factory.

Additionally, LED display video walls provide information about products or services, which can help persuade customers to purchase.

2. Increase your brand value

Constant exposure to the brand is a significant reason for prominent brands' adoption of LED video walls. The exposure of the brand in a positive light results in higher brand awareness, which in turn increases the brand's value.

Video walls are a great way to build a brand. You can display corporate or client logos on the walls or display a video that offers a glimpse into your company's brand or philosophy. You can also use video walls to highlight your company's products or services.

3. More opportunity for business

As we all know, the business world has been going through some tough times recently. However, it has not been all doom and gloom. There has been some great news. One of the benefits of LED display video Walls is that they offer a great opportunity to businesses.

Furthermore, video walls can be found in high-profile locations all over the world, such as airports and shopping centers. But they're also becoming increasingly common in commercial environments such as offices, banks, supermarkets, and production facilities.

The integrated video wall display is the ideal solution for companies that want to transform their business. It is also used to show live footage of your company's premises or to display customer testimonials and reviews. This is a great way to show potential customers what your brand is all about and to encourage them to visit your premises.

Enbon: Global Leader in LED Video Display

Enbon has established a sound procurement system to ensure LED display video product quality. At the same time, we have established cooperative relationships with a number of material suppliers to provide us with materials for production in time.

Our rapid development is inseparable from these two aspects. We have always prioritized product quality. We have strict requirements for material selection, product design, and product development during the whole production process.

Enbon LED video wall display is a turnkey solution for various applications, including indoor, outdoor, rental events, fixed installation, broadcast, command, and control. Visit our site and learn more about our products and services.

The Bottom Line

LED display video is an awesome way to display graphic images, videos, and other information. They have been widely used to display images in many places, like entertainment venues, conference rooms, shopping malls, hospitals, stations, airports, etc.