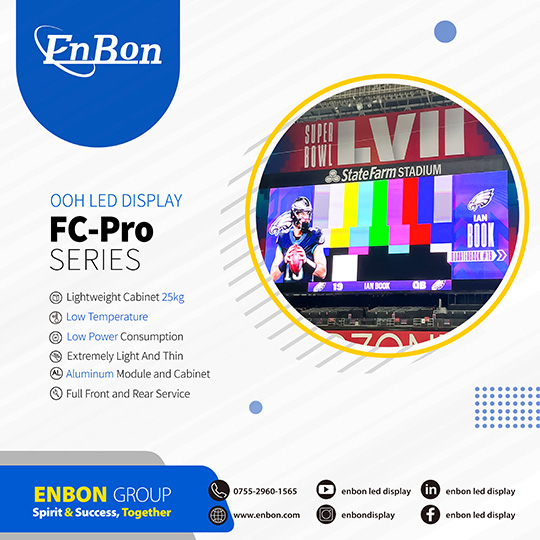 A wholesale LED advertising display is a large, usually outdoor, screen that shows digital advertisements. They are often located in high-traffic areas near bus stops or on the sides of buildings.

Wholesale LED advertising displays are popular for businesses because they are evident and can reach a large audience. They are also relatively inexpensive to operate and maintain.

In this informative guide, we will discuss the function and benefits of wholesale LED displays. After reading this article, you become more clear about your query. So, without wasting your precious time, let's start to discuss the answer to your question.

Quick Overview About Wholesale LED Advertising Display

The wholesale LED advertising display is a product that is gaining a lot of popularity among the people of today. These days people are very much interested in LED displays because they are much more durable and very energy efficient. The led displays are available in different sizes and shapes. You can easily select the one that suits your needs and requirements.

One of the best things is that these digital displays are very much easy to install and are very much easy to handle. It is available in different colors. Choose one according to your choice.

How Does it Work?

A wholesale LED advertising display is a specialized form of advertising that uses light-emitting diodes (LEDs) to display a message. These displays are often used to promote a product or service or to attract attention to a particular event.

Furthermore, wholesale LED advertising displays are used for a variety of purposes, including:

● Indoor and outdoor advertising.

● Retail displays.

● Trade show displays.

● Public transportation information displays.

● Sports stadium scoreboards.

● Traffic signs.

● Billboards.

Let's start to discuss the advantages of this digital product. After getting knowledge about the features, one becomes more clear that it is an excellent way to promote your business.

What Are the Benefits of Wholesale LED Advertising Display?

Top-listed benefits of the product are mentioned below.

1. High quality and bright displays

All wholesale LED displays are made with the highest quality and bright displays. No matter the size of your business, you can be sure that your displays will be of the highest quality. You can also be assured that the displays will be bright, making them easily visible to your customers.

In the case of small businesses, choose the compact model. These compact models are usually only a few inches wide, making them perfect for small businesses. This digital display is an excellent choice for your event because it will give you a great look.

2. Easy to install and operate

As we all know, the installation and operation of most products are very troublesome, and we need to hire professionals to install and operate them. However, the installation and operation of wholesale LED advertising display products are straightforward, and they can be installed by themselves. And the operation is effortless, and the general user can operate it in a short time.

So it is easy to install and operate. You can use a variety of methods to install the panel on your display. The most common method is to use the display panel stand. The stand is easy to install and can be adjusted to fit your display.

3. Energy efficiency

Most of the display products consume a lot of electricity, which is not only harmful to the environment but also consumes a lot of electricity, and the consumption of wholesale LED displays is very low. So it will save a lot of electricity costs for users, which is also very good for the environment.

4. Durability

The durability of the display screens is the main reason why they are becoming increasingly popular. These screens are made from a special kind of glass that is highly resistant to scratches and other kinds of damage. This means that you won't have to worry about them breaking or being damaged easily. In addition, the glass is also durable enough to withstand high temperatures and other harsh conditions.

Traditional display products have a short service life, and the service life of wholesale LED advertising displays is very long. It can be used for a long time without replacing it, which will save a lot of maintenance and maintenance costs for the user.

5. Wide variety of sizes and shapes

This LED display is available in a wide range of sizes, shapes and specifications. They are suitable for indoor and outdoor use and can be adapted to any type of space or setting.

6. Cost Effective

Another benefit of these display screens is that they are very cost-effective. You can get these screens at a very reasonable price because they are manufactured in large quantities. This means you can buy them in bulk and save a lot of money. You can also use them for other purposes, such as advertising or promotion.

Enbon: Reliable Screen Manufacturer

If you want to buy wholesale LED screens, you should make sure that you do some research first. There are many websites that sell these screens. You should compare the prices of the different websites before making your purchase. You should also make sure that you buy from a reputable site.

This will ensure you get the best quality screens at the best possible price. Enbon ensures the quality of its product. Choosing an Enbon digital display product will prove beneficial for your business.

The Bottom Line

The traditional display products are primarily used in indoor places, and the Wholesale LED Display is not only suitable for indoor use but also suitable for outdoor use. So in terms of application range, Wholesale LED Display is also very wide.

Wholesale LED advertising displays have many benefits, including lower costs, more variety, and better quality. In addition, wholesale LED displays are often made with better-quality materials and components than retail displays.

Furthermore, it can save you a lot of money and help you reach more customers. So, what are you waiting for? Wholesale LED advertising displays now and differentiate your business from others.