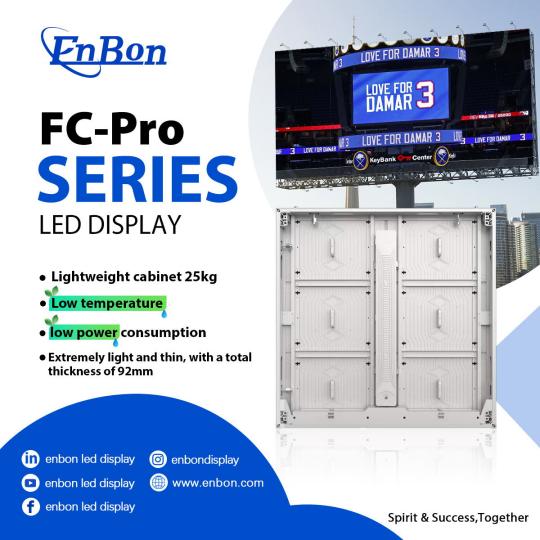 In order to meet the informationization of the global court, LED screens are setting in the parking lot, referee area, athletes lounge and even each functional area of the stadium. In order to realize the "people-oriented" concept, the stadium screen should follow the following functions when designing:

(1)Anti-collision module design: easy to dismantle Because the stadium screen is usually in the rental scene, it is required to be simple and fast to remove and replace, and the use is stable. Interlocking devices are usually used between the splicing chassis. At the same time, the module is easy to install and remove, and it also solves the problem of seamless splicing of large areas. Considering that the geographical and climate of many competition areas are quite different, in addition to the protection and quick maintenance of the box unit module from moisture and water, the structural design of the screen body uses a soft mask to ensure direct sunlight. Still clearly visible. High-intensity anti-collision devices are applied to the chassis to protect players from injury, which reflects the humane care of the new LED stadium display solution.

2) Audience / Referee / Organizer perspective

1. Achieve better display effect with retractable support device
In order to achieve good displayability, the bottom of some high-spec stadium screens provide unique lifting retractable support devices. The stand can be adjusted in height within a fixed range, standing more stable, and satisfying good display effects in different directions.

2. Integrated multi-function, customized display screen
Taking the referee video assistant system newly added in foreign competitions in recent years as an example, it can realize the review, recording and broadcast of real-time pictures, so as to more accurately handle disputes and penalties, and cut goal scores. The new LED stadium screen integrates professional timing scoreboards, sports video information, and even comes with advertising and entertainment. It has multiple displays on one screen, supports remote monitoring, and seamlessly intersperses advertisements during live events to achieve different functional areas in different areas. The division and customization guarantee a reasonable advertising or value-added service income.

3. Multiple installation methods, more widely usedIn addition, different functional areas around the court should be equipped with pitch LED display products with different pitches, and support wall, seat, and hanging to meet fence screens, indoor splicing walls, and many different greenery field application scenarios or other Functional Requirements. This article shares some of the technical requirements that a goodLED stadium screen needs to meet, and I hope to help everyone.