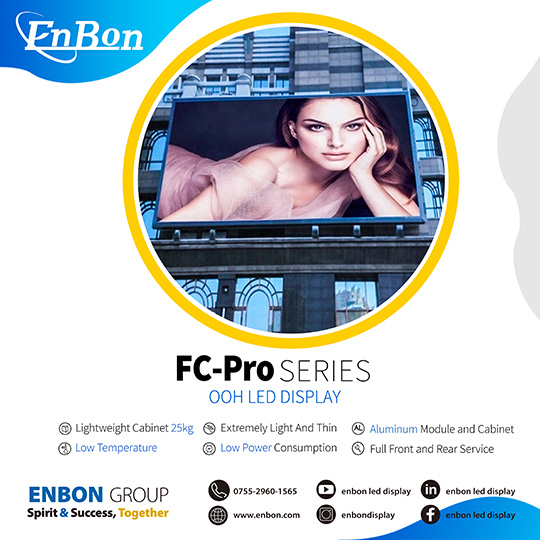 The outdoor LED advertising screen is an electronic display that is used for promotional purposes. You can easily install or mount this LED on the wall and get the best of everything. If we talk about the pixel pitch of the LED screen is around PH1.25mm. It will help you display all the necessary information to the targeted audiences. However, the screen of this display shelf is not very large but it can play high-definition pixel videos effectively.

The manufacturers of shelf LED displays make use of GOB technology. It gives out improved IP protection along with other benefits. You get waterproof, anti-collision, and dust proof features in all such screens. It is easy to control this display with the help of a remote. Users can change the content with a single press making things easy.

What Is Outdoor LED Advertising Screen?

The outdoor LED advertising screen comes packed with a lot of prominent features. Nowadays every supermarket is using these screens for displaying information. There is no doubt that this display gives out a strong advertising impact and leads to higher profits for businesses. Whenever a customer sees the product it will convince them to purchase it right away.

These screen provide water and dustproof features. You will be surprised to know that the screen can protect itself from possible water or collision damage. It has an extensive service life and gives you the best results without much maintenance.

outdoor LED advertising screen

If you are planning to hold an event this outdoor LED screen will benefit in many ways. You can achieve excellent advertising results and enhance the viewing experience of customers. Some prominent event organizers like to get these screens installed.

It gives good vibes to their business and customers are drawn toward towards the screen. Most of the advertisements from supermarkets are based on the promotion of their products. There is no doubt that a better understanding of product details can lead to higher sales. It also enhances the customer's desire for shopping.

Features Of Outdoor LED Advertising Screen

The outdoor LED display offers prominent and useful features for all customers. Some of them are mentioned below:

1. Dynamic Play
The LED screen features a high refresh rate and color saturation. It results in a vivid visual effect that is not easy to ignore. Your customers will be drawn toward the screen very easily. Businesses have the option to advertise their product details on the screen. It is helpful for holding events and engaging audiences.

2. Easy To Set Up
You will be delighted to know that LED screen is lightweight and thin. Customers can transport it from one place to the other without any difficulty. The installation process is easy and you can handle it without professional help too. It is easy to use this display on various shelves without any tool maintenance.

3. Easy To Use & Manage
The outdoor advertising LED display are high in demand. It is installed to play advertisements and promote your upcoming events. You can change the content with the help of a control room. Moreover, this LED screen is more like a USB plug-and-play.

4. Convenient Pixel Size
The pixel size of the LED screen is P1.25 while the size is 300 by 60 by 21. It offers plenty of ways to display content that includes video, images, or text. You get a high resolution and it is very easy to install and use in daily life.

Who Can Benefit From Outdoor LED Advertising Screen?

The outdoor LED advertising screen offers high-definition characteristics. It offers a clear and enjoyable viewing experience. The general structure of the product is easy to use and install. You can scroll down and play your dynamic advertisements easily.

Many stores and supermarkets will like to get this screen installed. It leads to enhanced sales while the brand also becomes prominent among buyers. Many enterprises and event organizers are also making use of this screen display. Here are some businesses that can benefit from LED screens:

1. Retail Shops
The traditional supermarket shelves will help you display all the product prices and pictures. It is useful for promoting your products through videos. Many youngsters like video display more than other types of information. You can engage a lot of customers by displaying the features and benefits of your products on the screen.

2. Advertising agency
Most advertising agencies make the best use of outdoor LED advertising screens. They like to get it installed right next to the product. Whenever customers are confused while choosing a product, the product display will help them. It will significantly increase their desire to make a quick purchase. Nowadays customers are smart and they will not purchase products without knowing all the details. When you give your buyers some benefits, it leads to a win-win situation.

outdoor LED advertising screen

3. Show Rooms
There is no doubt shelf LED screens are used in many businesses. They are commonly installed on the display shelves of the showroom. It will help them display all the product details they have to offer. Customers will get attracted to the display and make quick purchases. All these promotional activities can lead to bigger and better profits.

How To Control Outdoor LED Advertising Screen?

The control center can easily control this LED screen. However, it has varied control methods for your benefit. This control method is suitable for a small amount of LED screens. Users can move towards the LED screen and control the time or plug and play.

You need to change the program with the help of a mobile app. The features of this control method are easy and convenient to use. There are different types of programs that you can edit according to your requirement. It is easy to control remote and multi-shelf LED screen programs via the internet. This control method is suitable for plenty of LED screens.

Conclusion

If you are planning to purchase a new outdoor LED advertising screen, look no further. Enbon offers premium quality LED screens that can fit into your budget. Why not promote your business and organize various events easily?